The frenzy of building and renovation that started with the global pandemic that still plagues our nation and our world has not diminished–not one bit! For better or for worse, the way we live and work has changed, most likely, forever. As we continue to adjust to new routines, and new ways to balance work and family/personal time, we continue to try to make ourselves as comfortable as possible with an uncertain "landscape."
Never is this more apparent than in the huge home improvement and renovation "boom" that we have experienced over the past year and a half. As travel becomes both more logistically challenging–and, therefore, often less appealing–individuals and families are valuing more and more the idea of making their home their haven. Besides the structural and design changes that improve the inherent challenges of the multi-tasking home (kids' play spaces competing with adult work-at-home spaces, etc.) people are motivated to create a home environment that makes staying at home more pleasant and appealing than ever. Enjoying your home, and also having beautiful spaces that function optimally for every part of living–cooking, entertaining, sleeping, working, playing–has become a high priority for most homeowners.
So, if your budget is limited, and you want to make smart choices about improving the functionality and comfort of your home, how do you prioritize? This leads us to the questions around home improvements and return on investment. Not all of us are armed with bottomless resources, so most of us want to balance the comfort and pleasure we will get out of a major home renovation with the practicalities of wanting those improvements to add significant value to our homes. So, what kinds of home improvements and renovations will translate into solid return-on-investment when it comes time to sell? What kinds of improvements might be a mistake, and not bring you much in later (potential) returns?
There are some "tried and true" optimal ROI home improvements, and some others that can be valuable, but will depend more on the time of life, and/or particular needs and tastes of the new potential buyer. Based on my experience with the areas most homeowners want to improve, as well as collecting the insight and research of real estate professionals, I am going to give you the "TOP 5" list of the best home improvement choices–both from the perspective of the increased pleasure and comfort these renovations bring the homeowner, as well as from the ROI perspective.
1. Kitchen Renovations: Kitchens are, and probably always will be the heart of the home. A tired, poorly designed kitchen is an instant turn-off to both homeowners and future buyers. Even simple improvements– like resurfacing cabinets and installing new countertops–can be a huge game changer!
2. Bathroom Renovations: A comfortable, luxurious bathroom (or two or three) appeals to everyone! Families often note their greatest "pain point" as having cramped or poorly designed bathrooms that they have to share with other family members. And, let's face it, there is nothing as unpleasant as an old, grimy tub or shower surround, or living with avocado green fixtures from the 70's. Fighting over the toothpaste bombed single basin is also not many people's idea of fun! UGH!
We have examples of two radically different styles of new bathroom renovations below.
One, in a beautiful house in Lincoln, MA reflects the more classic nature of the home. Although entirely new and fresh, we kept the look timeless by using a beautiful porcelain paver tile for the floor, crackle subway tile with a pebbled shower floor, and custom made cabinetry, made of solid walnut. The effect is rich, timeless, elegant and luxurious.
The second bathroom is both more playful, and also taps into a completely different "vibe." This bathroom reflects the spa-like, "zen" mood and sensibility that the homeowner wanted–complete with garden style "pebbles" and the simple oval shape of the tub creating a harmonious feel within the space.
3. Additional Space: newly finished attic spaces, basements or sunrooms that add an entire additional level or large new area to the existing home. In the case of a basement or attic renovation, investing in finishing these spaces can mean adding (often) major increased square footage of living space to the existing footprint of the house. Furthermore, for busy families, the ability to have a designated, separate space to send kids to play (or to "get away" themselves) is an enormous bonus! Ahh–a little peace and quiet and breathing room! And, you can even add some wonderful "adult friendly" features, like a gorgeous bar area!
4. New Studio/work-out room/Office Space/In-law suite: The appeal of adding a fantastic, beautifully designed office space, or "Bonus Room" space is now (almost) universal. With the increasing need to work virtually from home, many homeowners are re-evaluating and reconsidering how to design and structure different rooms in their homes for maximum efficiency, comfort, and yes–multi-tasking rec center! The image below is the amazing jewelry studio space I designed for a talented jewelry artist. (Not all "office" work is alike!) The space–slightly over 1000 square feet–was also designed to be a music studio space, lounge and entertainment area, and an all purpose "do it all and have fun" space! Our design achieved that wonderfully! The open space plan, multiple skylights, and beautiful perimeter track lighting made the space feel like it had endless possibilities, and felt like a creative haven. Big, drum style pendants installed along the ceiling beam added to the drama and creative mood of the room.
The long rectangular room shown below was once an empty, white walled "blah" room in my client's home. The room lacked purpose, character and atmosphere so much that my client (and her whole family) never stepped foot in the space until we re-designed it! We brainstormed the renovation and design together–taking inspiration from images of rooms my client loved, as well as from the basic (functional) needs of the family. The room needed to be comfortable and well-designed for hanging out, relaxing by the fire, and entertaining, but also needed to serve as a needed work and homework space. By designing and adding beautiful built-in desks and cabinetry, while also incorporating a lovely window seat, we added both purpose, structure and visual interest to the space. We further increased the flow of the house and the "user friendly" qualities of the room by installing french doors on either side of the room. The French doors are beautiful, bring in light from the outside, and create easy access to the adjacent office/tv room beyond. Now, this family uses this room all the time, and love the way it feels to be in it!
5. Built-in Cabinetry and Storage Features: Nothing is more frustrating (and therefore more desired by homeowners) than adequate, functional, well-designed storage features. Whether you need the ultimate kitchen pantry, the world's best built-in book shelving, or an enviable closet system, creating built-in furniture, cabinetry and storage features is a wonderful way to add value to your home. If you have ever had to cram an entire wardrobe into a tiny closet, or leave cereal boxes out on your kitchen table due to lack of good storage space, you know what I am talking about! In my client's kitchen, shown below, we designed an entire wall of deep pantry cabinets (shown on the right) that provide the family with a vast and enviable amount of storage. With built-in storage like this, there is quite literally a place for everything, and everything has its place!
In another home–this time a very contemporary one–we designed a giant, sliding panel "wall" that covered the tv and book shelving when closed, and showed off the attractive collection of ceramics on the shelves when open. Practical and beautiful!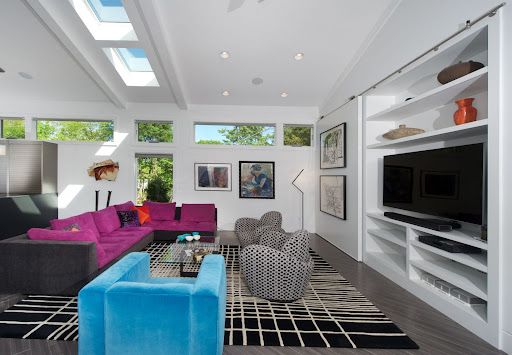 Another genius way to add fantastic function to a room, while also making it beautiful and architecturally interesting, is to add furniture-like elements that provide abundant storage. In the more traditional "country kitchen" we designed for a family in Sudbury, a traditional style china "hutch" was designed and installed. We painted it a gorgeous color of robin's egg blue, which set it off perfectly against the buff colored walls. Beside housing the beverage refrigerator, it also contains many drawers and cabinets with shelving–becoming an amazing storage "depot"! Plus, it adds wonderful architectural interest and dimension to the space.
Just to show how different a similar concept (a built-in hutch feature) can look from one project to another, I had to show you the image below. In this case, the design style was very fresh and contemporary. For this hutch feature, I designed the unit to be entirely recessed into a wall, and created visual drama and beauty by highlighting the cabinet with three different kinds of lighting. The dining area is just adjacent to this piece, so it creates a stunning, interesting visual while at the dinner table. Plus, again, great storage!
I have a few "runner-ups" on my list of value-added home improvements. These include:
New Garage (when the house doesn't already have one.) Especially critical in places like the Western mountains and New England!
Outside Living Features: Fire pits, patios, decks
Systems upgrades: central air, radiant heat, built-in music system and other "smart house" features
Although I believe the "TOP 5" areas of renovation or improvement have definitely stood the test of time (as being consistently great return-on-investment options) it must be said that everyone has something about which they care deeply. So, whether it's building your enormous, toy intense man cave, walk-in closet to die for, or a world class wine cellar, ultimate value is, of course, in the eye of the beholder, or in this case, the homeowner! As a long ago former boss of mine once said, when asked about investing in fine art, "You should always just buy what you love." Value may come and go, but when you invest in something because you love it, you will never be disappointed…
So, dream on, and explore your favorite "best home value" ways to make your home the ultimate "castle" for you! You are only limited by your imagination!