Your days are long—whether you are spending all day homeschooling kids, schlepping to and from your office, or working outside in the elements all day, your workday takes its toll on your body and your mind. Most of us are well informed about the myriad benefits and pleasures of bathing. The fine art of a luxurious bathing practice has been expressed and documented since pre-Roman times and we humans are still enjoying the exceptional peace of mind, feelings of bliss, renewal, and decompression that come with a wonderful bath time experience.
This is why we so deeply appreciate that gorgeous, stadium football sized European shower, or the tempting watery beauty of a Jacuzzi tub filled with your favorite bath salts or bubbles. The delights of a delicious spa-like experience for your daily ablutions are not out of reach, and need not cost a year of your hard earned salary! While you cannot underestimate the value of investing in an experienced contractor (and the associated costs to get your bathroom project executed perfectly), there are some tips and cost saving design "secrets" that can help you turn your tired, avocado hued 70's bathroom into a glorious, dazzling, and infinitely soothing and restorative home spa.
Your zen-like jewel of a bathroom does not have to be a huge, hotel style palace of a space. A well-designed small bathroom can feel incredibly luxurious and give you plenty of the right kind of storage, if planned correctly. For example, even with a small footprint, a good size walk-in shower, with a frameless glass enclosure and light, bright finish materials can feel spacious and uplifting. A narrow, but well-planned floor to ceiling cabinet can be outfitted with multiple shelves, and therefore store a lot of your bathing ritual products! Nor do you need to eliminate all the fancy "bells and whistles" you might associate with a luxury bathing suite. There are inexpensive heated towel bars, beautiful mosaic tile for accents, and nice-looking bathroom fixtures that can add sparkle and beauty to your bathroom without breaking the bank. I often recommend using a simple, classic and relatively inexpensive field tile (such as a large porcelain tile or ceramic subway tile) for the walls of a shower or tub enclosure. Then we would implement a glass or stone mosaic tile to add a "waterfall" effect or decorative banding in or around the enclosure. These little visual "pops" add so much beauty and visual interest that it is not necessary to add much else.
When working with my clients on bathroom projects, the conversation usually starts with asking and listening to the answers to some key questions:
What are the "pain points" with your current bathroom?
How do you want the space to feel—i.e. airy, bright, sleek and modern, or cozy, nurturing and peaceful?
Have you thought about your budget and what do you think you are comfortable spending on the renovation?
How many family members will be using the bathroom and what are their current ages?
How may the requirements of the space change over time?
What are the "must have" elements in your new bathroom vs. the "would be nice" to have?
It is also helpful to consider adding some safety and well-designed "aging in place" features such as a curb less, walk-in shower, or sleek grab bars to ensure that the space will function well for you in your older years.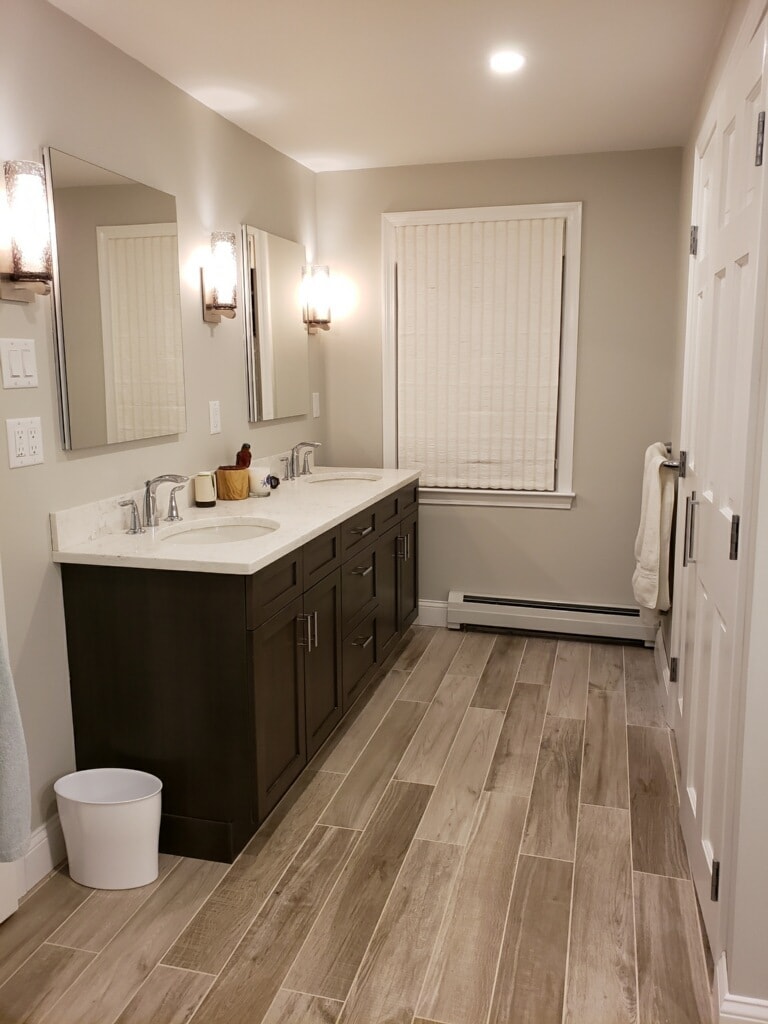 Good lighting in a bathroom is also essential. The best lighting for the face is even lighting that comes from either side (verses above the face.) In other words, if your bathroom can accommodate a design that includes linear or sconce lights on either side of the vanity mirror above your sink, you will have much better lighting for makeup application, shaving, etc. Overhead lighting, while helpful for general, ambient lighting, will cast shadows on your face when used at the vanity area. If a linear or multi-armed overhead vanity light is the only type that will work well for your particular layout, find one with good quality incandescent or LED (such as a fixture with lights on 2 to 3 "arms.") lamping and lighting sources that are spread outGood ventilation is essential, so invest in a good quality, powerful fan/vent such as those produced by Panasonic or Broan.
An experienced, well-trained designer will listen well, and help you consider your options. Your designer will come up with both the meticulous space plan as well as all the best materials and finishes. Perfectly 'curated' elements will be selected and combined together to create your ideal bathroom! So, whether you want to transport yourself back to the days of the Roman baths or you envision yourself enjoying your own sleek, hotel style, zen bathing retreat, you CAN create your very own Splendor in the Bath!