Happy New Year, everyone! Thank GOODNESS it is 2021 and we can all, hopefully, look towards a more even-keeled, engaged, positive, and forward moving 2021! Good things, I believe, are in motion, and we can count on the New Year bringing us all opportunities for personal growth, intentional living, and a positive outlook!
This month, I want to focus on bringing your dreams and plans for your unique family structure and lifestyle into your home–in other words, designing your space to harmoniously, beautifully, and functionally align perfectly with how you want to live and feel within your home. With so many of us struggling to work at home, relax at home and help our family members do the same, we are often faced with challenges around how to design or plan our home spaces to support all the various needs of each family member. Even if there are only two of you "at home", there may not be two designated (but needed) office spaces available!
An Overlooked Space in Our Homes
One of the most overlooked (and underappreciated) spaces in our homes is the basement! Often homeowners leave their basement spaces unfinished, and, thus, an entire LEVEL of LIVING SPACE remains completely unutilized. We all appreciate the extra storage (and maybe laundry, etc.) space our basements usually give us, but what about thinking about the basement in a whole new light? What if, with meticulous, intentional design and implementation, you were able to create a space that supports lounging, entertaining friends and family, movie watching, homework, home office needs, storage, home gym needs, and play space?
YES–it can be done!! I love to show the following images of a finished basement space I designed for a family in Bedford a few years ago. It is a "5 star basement" and it has changed this family's life! With two teenagers (these days mainly at home, "doing" school remotely) and two working, busy parents, having this additional level of beautiful, multi-functional living space is a dream.
Basements do not have to be boring! In this space, the entry to the basement is down a flight of stairs, where you immediately confront a wall, before being directed into the open space. To change "confrontation" to "revelation", we installed a beautiful, visually gorgeous and active wall of carved limestone, that looks like the surface of the ocean. WOW!
The entertaining, movie and TV watching aspect of this basement was a key element for this family. They wanted to make sure the space would be super comfortable and dynamic, and also allow for lots of people to lounge, sit, watch and enjoy at once! A color changing lighting system hidden above the soffit above the television adds a fun, "movie theatre magic" visual detail to the space. The large built-in gives the family plenty of storage, and the open shelves allow for the perfect display area for games, family photos, and important memorabilia!
We chose a grey, orange, blue and white palette to enhance the contemporary, yet bold and playful design of the whole space.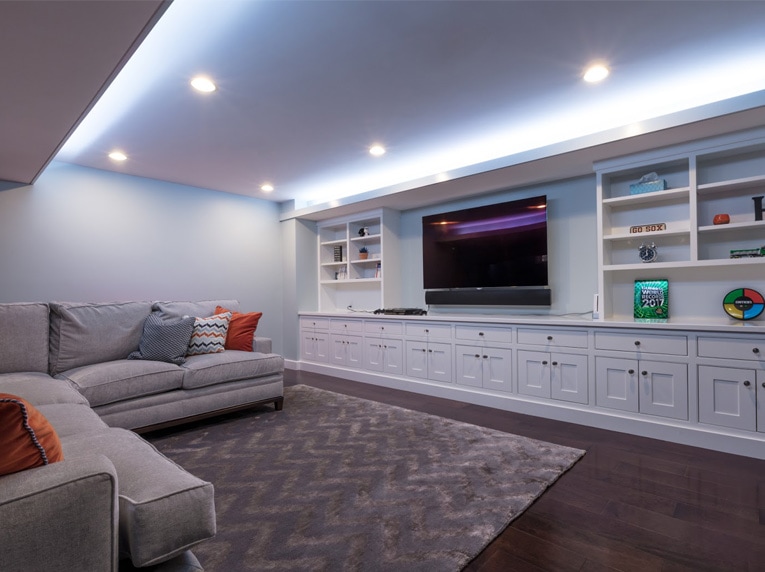 Of course, lighting is essential, especially in spaces where we often have very little natural light. In this basement, we were able to add french doors where there was access created to reach a new outside patio. However, since this natural light came from only one side of the basement, the interior lighting had to be exceptionally well designed and detailed. In the image below, we see the view to the eating area, and kitchenette bar (to the right) and a view above the ping pong table! Both recessed downlights, large shade pendants, and beautiful, textural wall lights, create both balanced, multi-level light, but also dramatic visual interest.
It's always fun to see the "finished product"— the result of hours of design, specifications research, and design development. The "building blocks" of any project, however, are the creation of an initial design concept, the schematic design, and the design development processes that are the touchpoints of the planning process–the steps a designer takes to go from initial ideas to full building and implementation.
The design and planning process starts with lots of attentive listening and questions asked of my clients. In the case of my clients for whom I am developing plans for their new (soon to be) finished basement, we started with identifying the main (functional) areas of the space: entertainment/tv viewing area, playroom, full bath, kitchenette and eating area, and utility/storage area. In addition, my clients desired a new linear gas fireplace and a designated area for wine storage. The playroom function would also be supplemented by creating a space for a pool table and adjacent seating. In other words, the space needs to have something for everyone, and to suit the needs and wishes of the family now and into the future. From a design aesthetic perspective, my clients wanted a cool, fun vibe, warmed up by some more earthy, rustic elements (such as salvaged wood boards for one of the long walls of the basement.)
This first drawing below, shows the Demolition/New Construction Plan for the space, showing where windows, walls, and systems will be added, removed, or changed. This drawing is always the first step in the drawing document "package: that is a critical part of any design renovation or renovation/addition project.
The next "layer" of important information in a drawing package is the floor plan or base plan. This is the drawing that contains all the information about how the new space will be laid out and architecturally structured–where the new walls will go, and where all the elements–from cabinetry to built-in features to furniture layouts –get expressed in two dimensions. I love this "layer" as it allows the viewer to really start to "see" and understand how the finished space is going to look!
Next, onto our next "layer" and the importance of a great, well-defined lighting plan! The lighting plan, shown below, outlines the placement of all the architectural and decorative lighting, including: recessed downlights, wall lights, special feature lighting, pendants and task lighting. The lighting plan is essential and allows the builder or general contractor the ability to pass the information onto the electrician for "as built" specifications and pricing–very important!
Lighting is it's own huge world, and lighting products and technology change and evolve all the time. I work closely with the amazing staff at Wolfer's Lighting, to get support with keeping up on all the latest research and product lines to use on my projects!
Once the floor plans are created, the next critical layer of visual information is the elevations. The elevation drawings show the design elements and details for each wall in a space, so that the structural engineers and builders know what structural and visual elements are intended, and where things need to be built. (Elevations also, when complete, include full dimensions for all the design elements, and materials and finishes being used in the space.)
In the elevation shown below, we see the design for the new fireplace wall. We see the new linear gas fireplace, with the ledgestone veneer detailed. My clients wanted a dramatic, asymmetrical look to this wall, so I have designed two wood veneer and metal panels that will run like "waterfalls" down the two sides–offset–of the fireplace. A large seating platform will be cantilevered off the right hand side, and additional cantilevered shelves will look like they are "floating" off the walls. Beautiful wall sconces from Visual Comfort, will be placed on either side of the fireplace to add additional drama to this wall design.
The second elevation, shown below, details the cool, inset cabinet storage elements designed under the stairs. On the back side of the stairway, the available space will be converted into a small, but amazing wine storage area, complete with stone walls, and a new glass and metal door system.
Careful planning and following the traditional design process produces the best "road map" for the ultimate success of any project.
So, whether you are planning a fabulous transformation of your basement space from "scary storage area" to "inspired family hang-out" or contemplating another type of design project, let a professional interior designer help show you the way!
Enjoy dreaming up your new space, because dreaming is, after all, another form of planning!