Let's just tell it like it is: thank God for the holidays–the joy, cheer, and brightness we only associate with this time of year, and especially the promise of (better) things to come in the NEW YEAR. 2021 has arrived, and it is time to say a very thorough and decisive GOODBYE to 2020.
We all love to indulge in the sights and sounds of the holiday season, and what better way to "ring in" the start of the new year than present a visual feast of a few of my "favorite things!" As an Interior Designer, I have a true love and appreciation for fabrics, furniture, decor, architecture, and styles that range widely. I love the bold geometry of Art Deco design, but can be equally delighted by the simplicity of pairing some of nature's greenery against a simple stone or barn board backdrop. (Add a little beautiful candlelight, and you have your dream "HYGGE" environment.)
This year, all things sweet and cozy appeal to me–whether it is the simple delight of the ivory and black Emma Bridgewater "Black Toast" collection of ceramics, or a fabulous chunky knit sweater, 'tis the season to bundle up, get comfortable, sip that hot chocolate (or maybe something stronger??) and just relax and enjoy the season and the advent of the coming year.
And, I don't know about you, but I have actually spent PLENTY of time in my lovely home, and am ready to travel again. Travel being my favorite thing #1 (outside of good design, that is…)
This is a favorite photo taken last year, when we were visiting my daughter who was studying in France at the time. Ah, Paris…
Paris, of course, is one city where you will never fail to find inspiration in thousands of forms. A recent hutch that was designed for my client's kitchen was painted in a gorgeous soft, smoky aqua blue ( a lacquered version of which I saw while staying at the magically lovely Relais Christine.
So, despite the fact that I, sadly, do not live at the incredible Relais Christine, a girl can bring a little French glamour into her own home. One of my favorite ways to do this is to go directly to one of my all time favorite fabric houses, Brunschwig & Fils. This centuries old French fabric house is now under the umbrella of Kravet (another favorite fabric and furnishings vendor) and offers some of the most unique, exquisite fabrics out there. I recently gave my staid, yet elegant Sheraton sofa a fun and unexpected dash of dazzle by upholstering it in the gorgeous Brunschwig & Fils cobalt and cream yellow cut velvet. (See below.) It makes the traditional piece of furniture fun, fresh and eye-catching.
Since it's pretty difficult for any of us to do much traveling these days, I find escapism of any kind to be quite appealing. This brings me to favorite thing #2–relaxing in a sumptuous bathtub. (And, no, this isn't just a girl thing…) In fact, some of my male clients enjoy a good soak even more than their wives do. A free standing, simple oval tub is a perfect addition to any spa-like bathroom environment. Notice in my client's bathroom, we got creative with the space planning, and added a lovely tub into an otherwise empty "nook" that would otherwise have not been very useful. It's now a little heavenly alcove!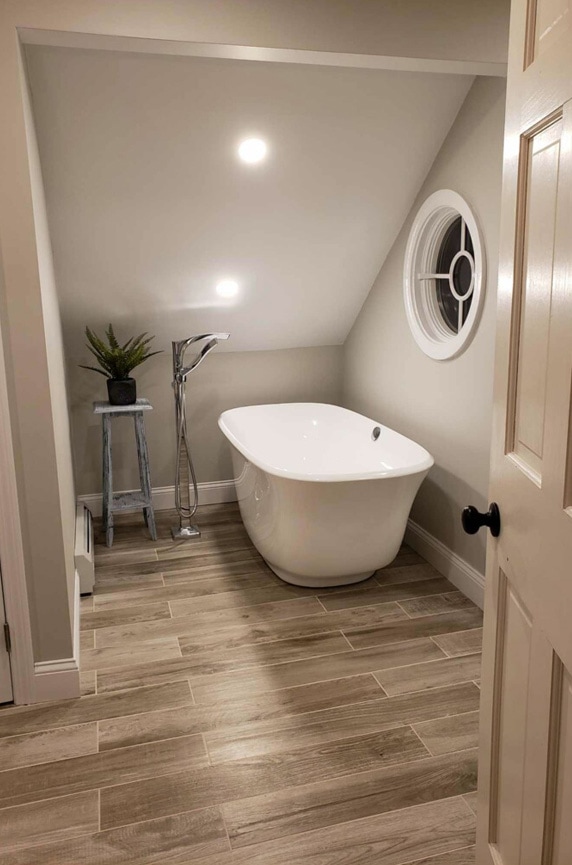 Reimaging and using space creatively is favorite thing #3. So often clients of mine don't use entire rooms or parts of their homes, because they have been challenged by how to use the space effectively, or make an awkward space become pleasant and functionally meaningful. When designing new open kitchen plans (often with adjacent seating areas) I love adding a restaurant type feel and function by designing built-in banquette seating. For one family of 5 who love to entertain, I created a very large L-shaped banquette seating area, and then had a custom designed (huge) walnut table. The space can now comfortably seat about 12 people!
Bravo to the brillant furniture maker, Erik Flanigan of McIntosh Furniture Co, who created this amazing table!
Good furniture can be hard to come by, and is often over-scaled for most homes. In fact, there was a time not long ago, where finding a reasonably proportioned piece of furniture was not at all easy. As I mentioned before, Kravet furniture is one of my absolute go-to furniture companies. They carry multiple lines from many different furniture designers, which provide designers a huge variety of style options for clients of all different tastes and lifestyles. Favorite thing #4: excellent quality furniture. The first image shows two beautiful Kravet sofas and a Kravet ottoman, used in my client's newly renovated Living Room. The second image shows Kravet sofas, ottoman, and lounge chair–perfect scale and style for the room. The gorgeous curtain fabric is also Kravet, as the company also has many lines of amazing fabrics including several proprietary designer lines, like Barbara Barry and Candice Olson.
My favorite thing #5: Rugs
Another passion of mine is beautiful rugs. Rugs can make or break a room, and visually create not only an incredible foundation for a room, but can be a wonderful way to build a fantastic palette for a room. When I have the ability to start with a clean slate, so to speak, I often start with an incredible rug, which can then provide the inspiration and reference point for the colors used in the upholstery fabrics, artwork, and other elements of the room.
As you can see in this traditional Living Room, the spectacular Suzani rug is both the foundation, focal point and inspiration for the design and color within the rest of the room. Glorious raspberries, blues, and cream tones all relate back to the colors in the rug. When this room was complete, my client announced that it was "better than Christmas!" You've got to love that!! One of the very best aspects of my work is bringing my clients joy and comfort. Our environments really do matter, as they can seriously affect how we feel!
As a designer, I find inspiration from so many sources. This leads me to Favorite Thing #6: Inspiration from Nature.
I know I'm indulging myself with another awesome travel photo (forgive me), but I cannot resist showing you the rich, fascinating array of color in these volcanic mountains in Iceland. The copper, green, iron red and yellow colors we see in the mountain range are all products of the metals and minerals in the surrounding earth, brought forth by the chemical and physical reactions of the volcanic activity. We see the colorful evidence of iron ore, copper, and sulfur (just to name a few!). When designing a space, or putting together an inspired palette, I often mentally refer to these beautiful natural landscapes. I am always inspired by the diversity, intensity and jaw dropping beauty of the natural landscapes we can find throughout the world.
Speaking of inspiration, I am also inspired by the artistry and craftsmanship displayed in so many of the incredible materials and finishes (both hand-crafted and natural) that I am able to incorporate in my design work. Favorite Thing #7 is specialty, hand-crafted tile. A recent kitchen design included a walnut topped island, creamy white cabinetry and the gorgeous hand-painted and glazed tile from the Stone Impressions tile collection. The geometry of this tile pattern allows for the creation of this dynamic pattern when the tiles are installed all together. The black, and ochre brown against the white carrera marble (of the actual tile) is beautiful in and of itself, but when used in conjunction with the creamy cabinets and the green/black of the soapstone countertop, you really have something visually stunning! You can see the whole collection at: www.stoneimpressions.com
I often use specialty tile in unexpected ways, as well, such as creating an "art wall" by using something very dynamic and sculptural. In the image below, my client did not want to enter her new lower level space by coming downstairs to face a blank wall. So, we sourced this incredible 2' x 2' limestone tile, carved into wave-like shapes, to create this bold, interesting feature wall. It is your first impression as you enter the lower level space, and it is wonderfully visually interesting!
Another dynamic, dazzling effect can be seen in the use of the grey and white stone backsplash tile that was used for the backdrop of the custom designed hutch. Despite being used only in this small area, there is a lot of visual "wow" factor in this mosaic tile. The "WOW" element in the spaces I design is something that I always try to achieve for my clients. There is always a balancing act–too many dynamic or conflicting focal points or elements can just look confusing, but not enough can look dull and boring. The trick is finding a few elements that can create dramatic focal points, while allowing other areas of the space to visually "rest." Good design also should always include my Favorite Thing #8: well-placed, high quality lighting!!
I LOVE good lighting, and it is one of the most important elements of well designed spaces. I have witnessed, literally dozens of times, the lack of use of whole rooms by my clients. More times than not the culprit is terrible lighting. If you feel like a room is a cave, or simply dark and dingy feeling, you are not going to want to spend time there! So, well-designed, well-balanced lighting is ESSENTIAL. (The little hutch in the image below is a great example of this, as it includes 3 distinct types of lighting. Within the upper portion of the hutch, small, glowing puck lights installed at the top create a lovely glow.) The under-cabinet lights "wash" and highlight the stone mosaic tile. Finally adjustable recessed ceiling lights illuminate the whole front of the built-in hutch unit. The effect is quite literally–dazzling! (But, dimmable…!)
In the kitchen image below, the upper glass cabinets have been lit within to create a beautiful glow, and the seeded glass shade pendants over the island give both great task and decorative light but add wonderful texture and sparkle. The pendants are from one of my all-time favorite lighting companies, Visual Comfort.
The super cool pendant over the dining table is from another one of my favorite companies, Hubbardton Forge. They are made in Vermont, completely hand crafted iron and glass lighting fixtures that are pieces of art–stunning, unique and amazing quality.
Favorite Thing #9: Custom Cabinetry, Furniture and Features
While there is a lot of great looking, well-made cabinetry and furniture available in the marketplace, there are times where something extra special or unique is required to perfectly complete a space. Sometimes, that element cannot be found, and must be custom made. For my client's recent kitchen renovation, we needed to take a special approach to the kitchen island. With the perimeter cabinetry all being a crisp white, it was important to add visual balance and some textural warmth to the new interior space. Thus, we decided on creating a contrasting island, using natural, solid walnut and walnut veneers. The natural walnut brings beautiful depth, texture and the warmth of natural wood to the space. We repeated this effective contrasting element by designing and installing three floating shelves at the end of one line of cabinetry. The effect is bold, high contrast and very visually balanced and pleasing. VOILA!
The elegant, lovely perimeter cabinetry design is by Woodwork Kitchens and the walnut custom island by McIntosh and Company Custom Cabinetry and Design.
I love it when a plan comes together!
Favorite Thing #10: Family and Family Comfort. My family is my life, and I love spending time with them. Our little family consists of two wonderful girls, one black lab, one large Bavarian warmblood horse, one husband (and father) and me! During the first spring quarantine period, we did our best to keep our spirits up and have fun. Early on, we planned theme nights for at home dinner parties. We had a BOND night, a Southern Cookin' night, and GATSBY night.
A little preview of Gatsby night:
Of course, all theme nights had to include a lot of costumes, because, hey, I'm an Interior Designer, and I love costumes, too! Here, we've got Daisy Buchanan and Sylvia from Downton Abbey…
My love of Interior Design comes out of my ultimate appreciation for beauty, life, and the joy of creation and transformation. Our environments do have the power to transform us, nurture us, inspire us, and lift us. When authenticity and beauty come together, it is one of the best forms of human creative expression. So, here's to the New Year and all the beautiful possibilities ahead…CHEERS!