Building is still beautiful!! The renovation frenzy, despite supply chain issues and rising material costs, has not slowed down! In an unpredictable world, our environments, the people we love, and the power of beauty and comfort are more meaningful than ever. With both a dynamic, shifting economic landscape, and the desire to continually improve my client service and results, the past two years have been focused on the following targeted areas of business growth for Mast Design, LLC.
New business designed to focus on even greater customer care through single owner management and service.
Building new strategic partnerships and vendor relationships designed to enhance all aspects of customer service, product quality and accessibility, and project management.
Streamlined business systems and greater social media platform and outreach.
Design Thinking
I have also found that many of my clients have expressed interest in both the design process, and what is unique to the way a designer thinks. So, I thought I would share a few words and ideas about what makes the creative process unique.
What is special about the design process?
Design thinking and process puts human beings first—the people we are ultimately solving problems for.
Design thinking is radical also in the sense that it is rooted in questioning: it questions the problem, questions the assumptions, and questions the implications of changes and transformations.
Design thinking re-frames problems in human-centric ways.
The Design Process
Not all projects are created equal! As a designer, it has always been my philosophy that the best design results come out of collaboration, imagination, intense listening, and the ability to manifest each individual clients' visions and dreams into the best design results possible. What does this mean as far as my design process?
I approach each project with fresh eyes and a "clean canvas" approach
I listen carefully to the words my clients use to describe what they want. And, then I listen to what is "between the lines!" My understanding is most complete when my clients feel comfortable to share both their aspirations, dreams and visions, and also their realities and limitations, like budget and how long the house will be going through a renovation process!
Gathering as much information as I can about style, lifestyle, changing needs of the individuals or family, as well as helping to direct and educate along the way has been a great formula for successful communication and outcomes!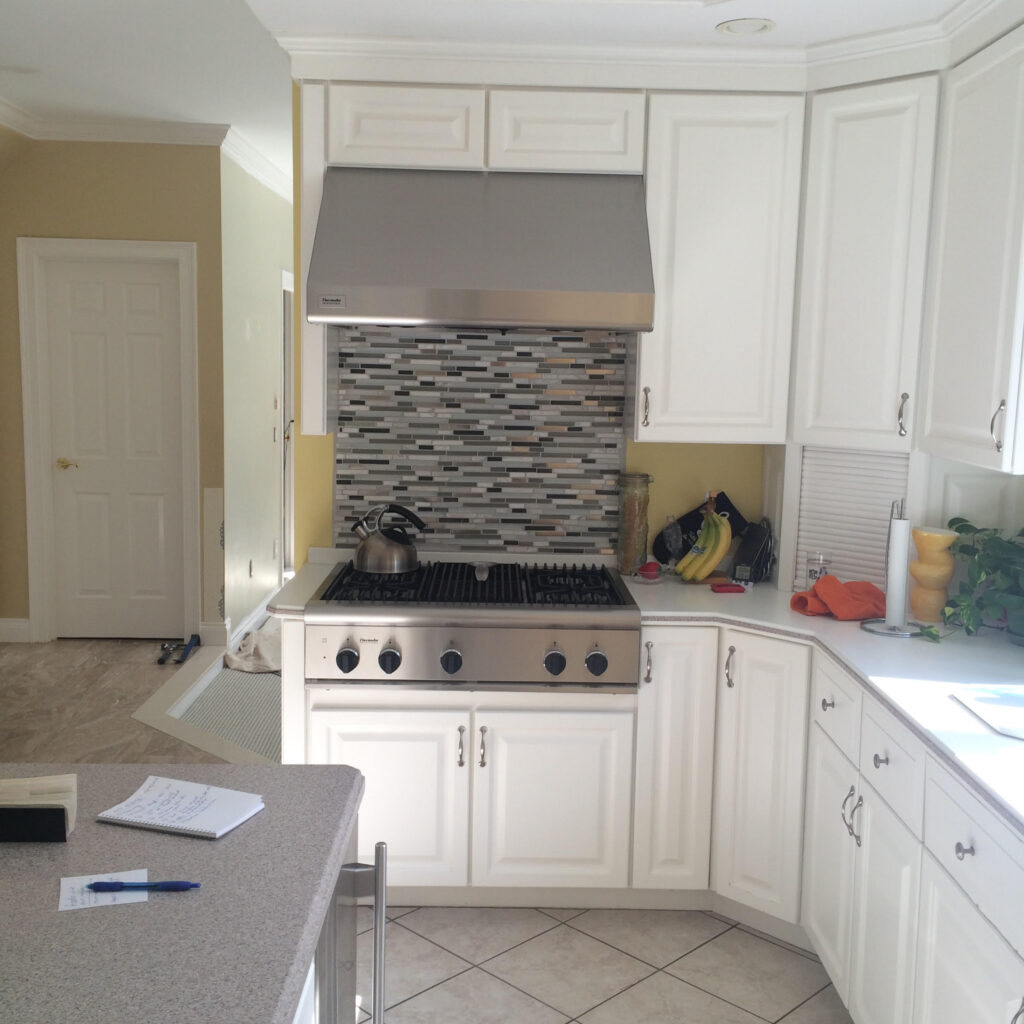 1. Initial meeting: define scope of the project, budget requirements, and overall "vision."
In this "before" image above, I am showing a kitchen prior to the renovation that resulted in the renovated kitchen below. Several good brain-storming sessions, and design concept discussions got us started on the general look/feel for the style of the kitchen, and the design development process flowed beautifully from there!
The "after" image below shows the same view of the cooktop–complete with a state-of-the art new range, and the gorgeous marble backsplash tile we installed for some extra glamor!
2. Question and answer session: identify stylistic preferences, "look and feel" and space planning goals and requirements. How do you want the space to perform and what are your priorities: both aesthetic and functional?
This space started out as part of an out-dated, in-desperate-need- of- renovation late 80's/early 90's home in Concord, MA. The original structure had lots of dark wood, almost no ceiling light and a cramped kitchen stuck in one far corner of the space. By thinking creatively and opening up several areas of the 1st floor space–to create a large, open concept floor plan–we were able to start with a "fresh canvas" of a large, continuous space that allowed us to create a completely new plan. We both moved and rotated the "footprint" of the new kitchen–allowing for a much larger, more dynamic, and highly functioning space. A supportive column that hid some necessary pipes and wiring was clad in heart pine, and then incorporated into the corner of the new island. The effect–cool, modern with a little dash of the unexpected!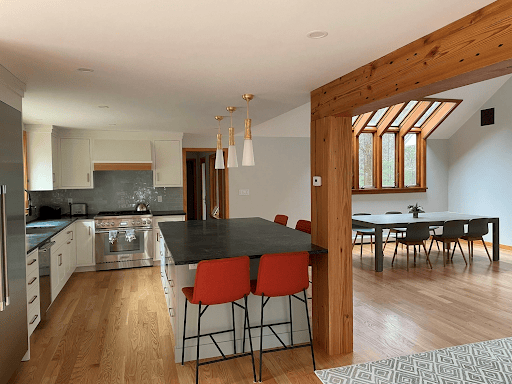 The overall design concept for this renovation was to highlight, and play off the open space and clean lines of the inherent architecture, while bringing in a modern, mid-century inspired details, elements, and palette. My clients, both scientists, couldn't resist adding some fun, spherical lights that remind us of planets or satellites! Plus, they add some much needed dazzling light and visual "wow" factor!
3. Design Process: field measurements and drawings.
Of all the critical aspects of the work and information involved in any project, the architectural drawings–the floor plans, elevations, sections, and other design specific drawings–are the most essential for providing homeowners, builders and trades' people the details they need to both envision (and of course implement) the design plan. The very first part of this process is measuring out the space to be designed and developed. This usually means taking meticulous measurements of the existing interior space, so that the requisite architectural drawings can be executed. This is our starting "roadmap" to the project's scope and architectural requirements.
Even the least naturally visual clients of mine are able to easily "see" how the final result is going to look when provided with these key visual "roadmaps." Needless to say, it never gets old to bring these drawings to life, and see the final result when the project is finished!
The first drawing shown below shows us both the elevation and plan view of the fireplace wall within the new basement level entertainment space I designed for a family in Lexington. An asymmetrical, yet balanced design for this wall–creating a dynamic, eye-catching collection of back-lit panels and shelves. It is mesmerizing, whether day or night, to simply gaze at this visual landscape!
The second drawing depicts the full basement layout (including the furniture plan) for the renovation plan for the entire lower level footprint of the house. To maximize use and family enjoyment, the space was designed to incorporate a designated kids' playroom/gym/tv area–accessed through two killer glass and metal sliding barn doors–as well as the home theater space, the kitchenette/bar, dining area and a full bathroom. Despite having a very sumptuous home, the family is now living (more or less) in the basement! Who said basements couldn't be fabulous!
4. Schematic design: Rough/initial construction drawing that offers a general overview of the projects' basic features—allowing for determination of project budget projections. This part of the process is devoted to carving out the essential visual "underpinnings" of the new space–the overall space planning (layout) as well as the design concept–what is the look and feel we want to create, and what elements and details are going to be included to create that vision?
In the case of this luxurious new master bath, the initial concept included a comfortable walk-shower, a large double vanity, bridging window seat, toilet area and new linen cabinet. The aesthetic concept was old world glamour meets new world functionality and comfort.
The concept was pinned to an updated classic look with high contrast elements. All of the cabinetry was designed and created out of natural walnut (gorgeous) and soft white porcelain flooring, alabaster vanity lights, and a green/cream/warm taupe palette completed the look. The feeling is warm, clean, and balanced with a touch of old world glamour.
5. Design Development: Development of the Design Documents during which the designer fixes and describes the size and character of the project: structural and architectural features (molding details, built-ins, moving or adding walls, etc.) Plus, specifying all design elements: all finish details—such as countertops, cabinetry, flooring, tile, furniture, materials, and fabrics. In this country kitchen (seen below) we can see how all the design elements and finishes chosen come together to reinforce the design. The development of the design, in other words, was manifested by the careful marriage of all of these elements and features. Once the fundamental space planning was complete, we chose a reclaimed oak countertop for the island white, updated "cottage style" shallow shaker panel style cabinets, and soapstone countertops for the main kitchen perimeter. A glorious "icing on the cake" feature is the hand-painted marble tiles that create the breath-taking backsplash detail.
Who needs a comprehensive, well-structured design process?
You, your friends and family in need of updating or adding value, beauty and comfort to your home.
Homeowners needing creative and well-developed space planning to create more pleasing and better functioning spaces.
Contractors, builders, real estate developers
Real Estate Brokers assisting new homeowners or sellers looking to add maximum value and appeal to their homes
Real Estate Attorneys
Architects seeking help with the further development of specific and fully articulated interior design elements to complete the interior detailing of their newly built spaces.
Saving time and money before you even begin your renovation project sets you up for success! Embark on your renovation journey today with Mast Design, LLC!