As an Interior Designer, I am drawn to good design in many forms. I can see great beauty in the streamlined contours of an intentionally designed, carefully made teapot, in the sinuous curves of a new sports car, and (of course) in the satisfying balance, proportions and details of a perfectly designed piece of furniture. However, outside of the world of Interior Design, I am most intrigued and in love with the art of jewelry design. As with any well designed object, form should follow function, and nowhere is that more perfectly and artfully represented than in jewelry design. The way an earring hangs just perfectly from an earlobe, the facets of it's gems catching the light in the most glittering, optimal way is the essence of design excellence. Beautifully designed jewelry should be poetry, history, illusion and art all at once. Amazing pieces of jewelry need to not just immediately enhance the presence and beauty of the wearer, but be engineered to sit "just so" above the collarbone of the wearer, or to draw attention to a slim wrist or sculpted arm. Jewelry can remind us of a more romantic, more gentle time in past history, it can be a talisman or protective device. It can remind us of a loved one, or simply inspire and dazzle us.
Just as I have my go-to, interior design industry "favorites", there are a few jewelry designers who I consider to be the best in their industry. Hundreds and thousands of fantastic jewelry designers and design houses exist, but I chose to highlight a few who produce consistently visionary, stand-out, amazingly crafted pieces of jewelry in their collections, year after year…
Foundrae: This Jewelry Company offers a collection focused around classic, heavy gold chains with an amazing, accompanying array of medallions and pendants whose designs and themes remind me of the most wonderful "curio" shop sensibility, but with impeccable craftsmanship and artful, powerfully dramatic design elements. Themed collections, such as "DREAM", "KARMA", and "PASSION" allow the wearer to craft their own necklaces and bracelets, according to their own desires and inclinations. Medallions can be grouped, mixed and matched to create intriguing, personal statements. The current unrest and lack of balance in our world has made me particularly attracted to the fabulous refined chain with the "resilience" medallion. Who wouldn't like to wear something that is not only eye-catching and dramatic, but feels like it could add strength and a sense of protective purpose?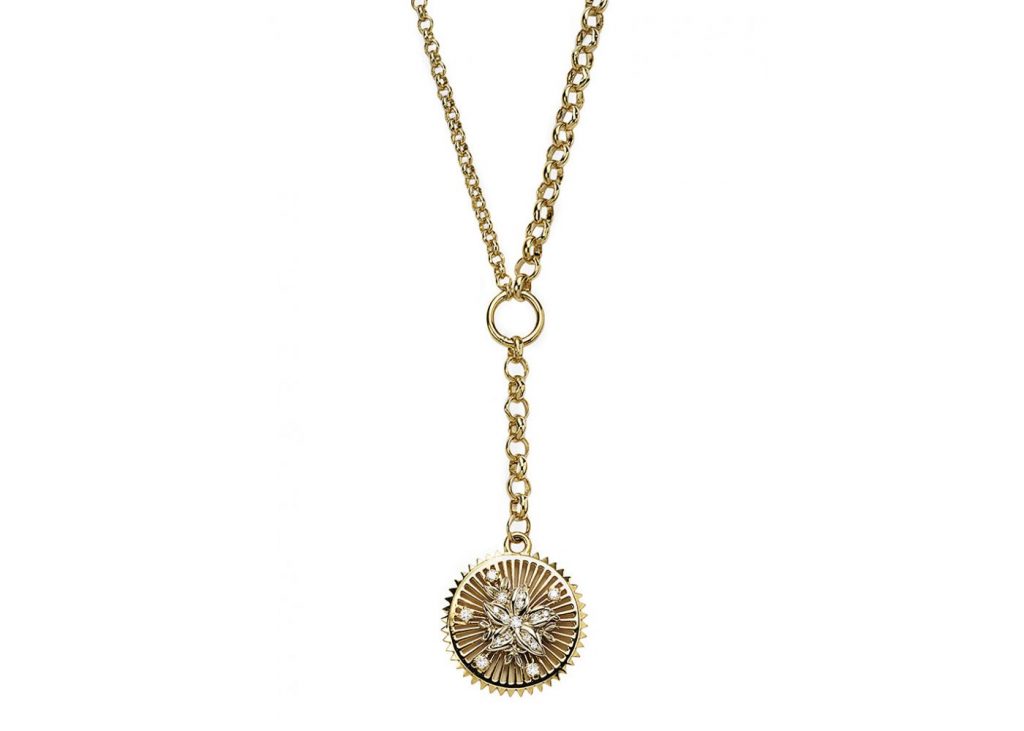 Another favorite designer of mine is Nak Armstrong, whose designs have a solidity and dynamic architecture that draws my eye time and again to his gorgeous creations. Wearing his pieces feels bold, yet the classic "under-pinings" of his pieces give them a classic, heirloom quality as well. Perfect, spiraling twists of baguette stones that sit perfectly along the outer edge of the ear, or earrings that pair (perfectly and subtly) a raw emerald with the contrast of gorgeous aquamarines define this designer's genius.
The "ruching" of fabric is a design technique that both interior designers and clothing designers know and love. It is the careful, and perfectly placed folding of fabric that creates a beautiful ribbed texture. Nak Armstrong does this with jewelry–brillant! Gemstones are folding along a setting of gold or platinum to create a fascinating, architectural wonder of jewelry design! Armstrong's boldly crafted, meticulously engineered twisting and turning jewelry calls to mind the fabulous twisting towers of architect, Santiago Calatrava.
Temple St. Clair writes about her creations, "Jewelry is one of the earliest forms of human adornment. It remains essentially a tribal art that all of us take part in. The earliest humans chose to wear symbolic amulets, talismans and charms to commemorate, to protect, and as a form of self-expression." The artist draws inspiration from her travels all over the world, and her exquisite jewelry reflects details and coloration from everything from ancient Byzantine art, to the decorative arts movement in Paris. As Temple notes on her website, " The Concepts for all of my collections develop through research and careful attention to an amalgam of images, colors, patterns, theory, and storytelling. It can take years for these initial concepts to take shape as jewels."
Melissa Joy Manning's jewelry collection has, at its heart, a commitment to "environmental and socially responsible business practices." She uses responsible-sourced gemstones and precious metals to create natural, ethereal looking pieces. The jewelry is beautifully and simply crafted, with a refined, yet earthy sensibility that endows her pieces with an heirloom quality. Natural gemstones–both raw and polished are married with 100% recycled metals to create sustainable pieces, yet highly fashionable pieces. Infinitely wearable and able to "skate" beautifully between high fashion and "everyday" wear, this jewelry remains among my all-time favorites among so many designer collections.
From an interior design perspective, Melissa Joy Manning's creations remind me of the beauty of John Pomp's lighting design. Pomp, like Manning, finds his inspiration and materials from the natural world, to create magical, hand-blown glass creations that resemble jellyfish, or a glowing, underwater garden.
New jewelry designers are arriving on the scene daily, but I would like to highlight two exciting new jewelry artists who have captured my attention! First, Sapir Bachar. Bachar started her collection prior to working as a textile designer for both Calvin Klein and Proenza Schouler. The forms and curving, graceful beauty of draped fabrics inspire her jewelry, which is known for settings that artfully twist and curve around perfect gemstones. Both bold and feminine, her pieces are true stand-outs.
Second, George Root, of Milamore. Root designs pieces (all designed in New York, and crafted in Japan) that are inspired by the designer's experiences, and which each tell a story.
Using both fine and raw gemstones, mixed metals,and other precious stones and materials, this fine artist creates unusual, playful jewelry. Classic forms are taken apart and re-imagined and restructured to create modern pieces with a sense of history. George Root's most recent collection, for example, plays with the idea of creating something new and beautiful out of a destructive process.
Despite their very disparate styles, each of the jewelry designers I've discussed above has created jewelry whose design is exceptional, unique and meticulously crafted. As I said previously, good design is good design, and it is great fun to see it manifested in something so personal, and intimately enjoyable as jewelry. If now isn't the time to seek out a beautiful, protective amulet or strength-giving crystal and gold charm, when is??